Tone Deaf Tool
Welcome to ToneDeafTool, a helpful ear trainer and melody finder for tone deaf people!
Start/Stop button, can also use earbud button;
Pitch-to-color mapping;
White means sound was below minumum volume (background noise), so it was not analysed! A full row of white corresponds to 25 seconds;
Each row of signal corresponds to 0.08 seconds, so all 22 rows is 1.75s;
Grey means pitch was analyzed but ambiguous;
Color bar indicates pitch of last analyzation;
Two colors means we're between two pitches!
RAISE pitch to move line UP, LOWER pitch to move line DOWN;
Solid color means on pitch!
Sound signal alternates white to black,
Numerical frequency (Hz) of last analyzation.
PrivacyPolicy:
ToneDeafTool does listen to your world when you turn it on, and allows you to save audio you've recorded. It immediately deletes audio you do not save; and it never sends your audio anywhere.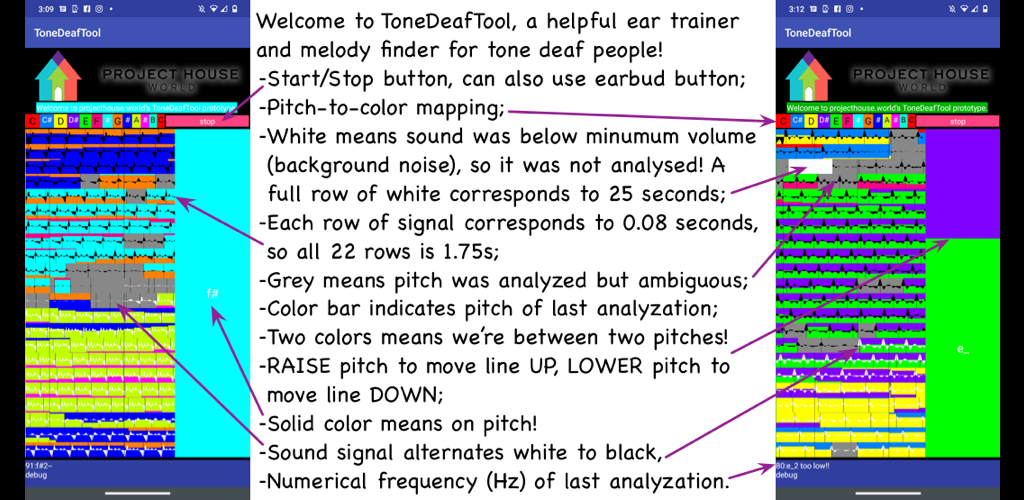 Join the Beta!
Write us to join our small group of beta-testers, then Go Here!